My GTE
28th June 2021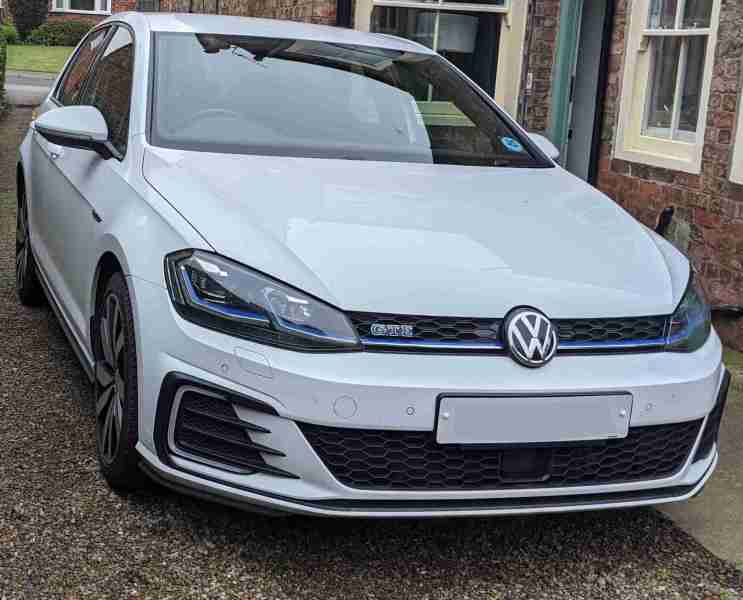 My GTE.
On May 12, 2021 I acquired a "67" reg, 2018 model, Volkswagen Golf GTE Advance in Pure White (non-metallic) paint. The car had 1 previous owner and had covered 82,500 miles. I bought it from an independent dealer. It came with full Volkswagen service history.
This is my first hybrid car. It's actually a plug-in hybrid. This was the main reason for me buying the car. I also wanted an automatic and the hybrid powertrain requires this. With the 8.7kWh battery fully charged you have a theoretical pure-electric range of up-to 31 miles although the most I have seen is 25 miles. The Golf GTE comes with Volkswagen's well-regarded 6-speed DSG gearbox. Other things which attracted me to the 2017 GTE Advance were:
Active Info Display - Digital rather than Analogue dash
Discover Navigation infotainment system – Includes better smartphone connectivity with Android Auto, Apple CarPlay and MirrorLink than the Composition Media system in my 2013 car.
We Connect (previously called Car-Net) – Remote mobile services via smartphone app or web.
18" Marseille alloy wheels – Look sporty.
LED lights – LED lights everywhere (inside and out). Headlights (dipped and main beam) are amazing. Rear light clusters have animated/sweeping indicators.
GTE styling (blue highlights) inside and out – Again, everywhere. "Jacara Blue" tartan cloth interior with black roof lining.
Some things I've had to compromise with this new car:
Smaller boot – The floor is fixed at the "high" position of my 2013 car because the displaced fuel tank is underneath. You lose about 100 litres of space.
No spare wheel – I'd have preferred one (even a space-saver) to the tyre repair kit you get instead.
Bye bye zero road tax – Unlike my Golf 1.6 TDI, I now have to pay £145/year.
Some things I'll miss from my old 2013 Golf – The keyless entry and start (I really liked this) and the Lane Assist (reassuring to have someone overseeing your steering).
First Impressions
I've now had my GTE for almost 2 months and I have to say I love it! It's so refined and quiet and I've yet to explore its performance fully. What has surprised me is how economical it is. I was prepared to accept it wouldn't be as economical as my 1.6 TDI but actually I think it is. The We Connect app is showing fuel consumption figures of 91.1mpg and 10.5mi/kWh over 1,141 miles. My 1.6 TDI's long term fuel consumption was around 64mpg.
The reputation of the DSG gearbox is well-deserved. You absolutely do not feel the gear changes during normal driving. At first I didn't even notice when the car switched between electric and petrol motors but now I sometimes can feel a very brief stutter, but that's fine.
Charging it is easy at the end of each day from the 13amp socket in my garage. It's great to start each day with a full charge. However, whilst I don't commute, on days when I use the car I often travel over 60 miles but yet the car's fuel consumption doesn't plummet. With brake regeneration it actually ends up getting better efficiency from the battery the further you drive. It's not unusual to get around 20mi/kWh on a longer trip. I've also quickly become a user of free public charging points such as those at supermarkets. I didn't expect to do this but I've found if you find an easy-to-use and convenient free charging point, why not?
With brake regeneration, coasting when no acceleration is required, you really get the feeling that you are only paying the maintain or increase speed. It's hard to get worked up even in traffic jams. The car's interior is so nice and with the Discover Media infotainment system with Apple Car Play and Android Auto integration, there are lots of things to keep you occupied.
I'll stop there for now. I'm sure I'll have lots of new articles soon as I get more used to the car. If you have any requests or questions, please do not hesitate to contact me.