1.9 vs. 2.0 TDI comparison
29th June 2012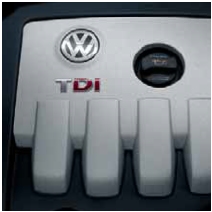 Well after 8 years I finally had an opportunity to compare my VW Golf Mk 5's 1.9 (105bhp) TDI engine against the bigger 2.0 (140bhp) engine. I have to admit though that this wasn't a 100% accurate comparison of the two main diesel engine options available when I bought my car since the 2.0 TDI incorporated the newer Common Rail injection technology where as my car has the older "Pumpe Düse" technology. Also, the 2.0 TDI was in a Jetta. More specifically, I got to drive a 2011 model year VW Jetta 2.0 (140 bhp) Sport with 6 speed manual gearbox whilst my car was at my local VW dealer having a new small cooling fan fitted.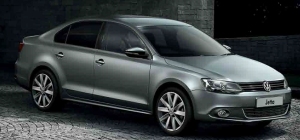 Volkswagen Jetta 2.0 (140 bhp) TDI Sport
I have to say I was impressed. The 2.0 TDI was noticeably quicker than my car and probably smoother also but that was hard to judge since my car is now 8 years old and this loan car hadn't yet turned 6 months old. Also, whilst the quicker acceleration was nice, I couldn't stop wondering whether it was worth the increased insurance costs. I was about to say "and reduced economy" but this newer 2.0 litre engine was actually more fuel efficient than my 1.9. However, things have moved on some. If I was to buy the more efficient diesel engine available now, the 1.6 TDI, it would definitely be more efficient than the 2.0. You are talking about extra-urban fuel consumption figures in the high 70's for the 1.6 and high 60's for the 2.0. My 1.9 is in the low 60's.
Like many new VWs now, the Jetta came with a recommended gear change indicator in the dash. I don't know if they have changed the programming of these recently but its recommendations seemed much more in line with my own gear choices than previously. A friend has a VW Polo with a 1.4 FSI engine and 5 speed manual gearbox and I find that car's gear recommendations quite annoying. One minute it's keen for you to change up but then the next minute you find the engine cannot maintain its current speed. In the Jetta, of course you have a much more powerful engine and so it never had this problem. In fact for the first time I had the opposite. I was occasionally told to change down! I got the impression though that this was more to reduce the chances of you stalling the engine rather than ensuring that the engine could maintain the current speed.
The Jetta came in the highest "Sport" spec which includes many "bells and whistles" as standard. It had cruise control (which I love), auto lights, auto wipers, auto-dimming rear view mirror, folding exterior mirrors, multi-function steering wheel, front and rear parking sensors with audio and visual signals via the audio system. The RCD 310 audio system itself was very nice working together with Bluetooth Telephone Preparation to allow me to, not only connect my iPhone via Bluetooth but also to stream audio via it also. This is more like the spec I would want in a new Golf rather than the lower spec cars you usually get as courtesy cars. And I say new "Golf" rather than Jetta because, as nice as this car was, I still think the Golf is my favourite body style. I love the practicality of the hatchback and whilst the size of the Jetta's boot was impressive, it's just not quite as flexible.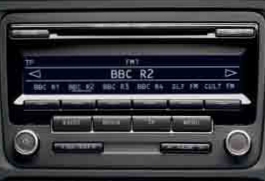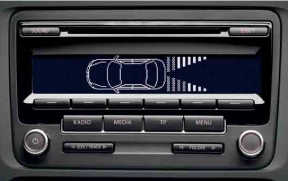 RCD 310 audio system (left) and showing Parking Sensor display (right)
Final points about the newer Mk 6 Jetta over my Mk 5 Golf, not so much to do with the engines as the design of the whole car but the Mk 6 platform appears to have continued to mature from the Mk 5. Things just feel a little more smoother, more refined. Two things spring to mind. The cruise control, when set on the Jetta I could hardly notice it being set. On my Mk 5, it just gets applied a little more noticeably. And on the audio system. On the Mk 6 when you are scanning through stations, the old station fades out as the new station fades in (only within less than a second or so) where as on my Mk 5 it's a sudden cut from one station to the next.
In conclusion, I already knew I liked the Mk 6 Golf hatchback and the Mk 6 Jetta saloon is just as nice, but I think I'm more a Golf man. As for which engine I'd go for if I was to buy a Mk 6 now? I guess I would have to test drive the 1.6 TDI to compare it with the 2.0 TDI. The 2.0 is quicker but do I need it? Fortunately I don't have to make that decision now. My Mk 5, after a few recent repairs is back to as good as new and I think I'd be silly to change it now. I'm happy to wait. It won't be long before the Mk 7 models are out and it sounds like there will be a few more engine options to consider then.