Gadgets in a 2013 Touran
8th March 2013
I've just spent a very enjoyable day driving around in a 2013 model year Volkswagen Touran 1.6 TDI 105PS Bluemotion Technology SE model.
Now I don't need a car as big as the Touran (it has 5 normal seats and then you can conjure up a further two rear-facing kiddie seats out of the boot floor) but I have to say it was very easy to drive and the 1.6 TDI engine was no slouch. However, there was only me in the car today. I think if more of those seats were occupied, the 1.6 engine might be a bit underpowered and the 2.0 TDI 140PS engine might be worth getting.
What was particularly appealing to me about this car was all the gadgets. It had an excellent RCD 510 touch-screen radio system, auto start-stop, park assist, rear assist and park pilot. Let me talk about each in turn.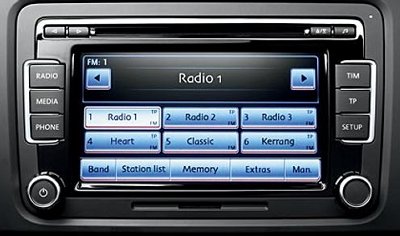 RCD 510
The RCD 510 touch screen radio system was very easy to use and sounded great. I particularly liked the Bluetooth integration. It was very easy to pair my iPhone with the system. I could then jump forward and back through tracks as well as see track information on the large colour display. Playback stopped when I left the car and resumed automatically within a few seconds upon getting back in. The radio and 6 disc autochanger appeared to work fine although I didn't use them much. I wish I'd remembered to check out the radio's DAB reception. I'm interested to find out how good DAB reception is in a car.
I liked being able to keep my phone in my pocket and still be able to access it and make/receive calls via the multi-function steering wheel controls and the dash MFD. The only downside to this arrangement is that it is not being charged. However, whilst it appeared to have been removed from this car, I think the system does come with a cable to allow you to plug in and charge your phone.
Auto Start Stop dash notification.
This was the first time I've driven a car with Auto Start-Stop. This is where the engine cuts out when you stop, apply the handbrake and release your foot off the clutch pedal. I have to say I really liked this feature. It is so seamless. You don't have to change how you drive. I guess the only problem would be if you didn't know the car had this feature when the engine suddenly stops. But then, it does display a reminder on the dash when it does this so it shouldn't take you long to figure this out. It was also easy to override the system should you wish and prevent the engine from cutting out if, say, you knew you were about to start off again soon. All you needed to do was keep your foot on the clutch. Simple!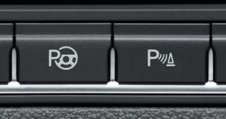 Parking aid buttons
Park Assist, Rear Assist and Park Pilot. That's a lot of similar sounding features. I have to admit to reading the manual to be sure I understood what each did but I did actually use all 3 beforehand without any problems.
Park assist is just VW's name for parking sensors and is where the RCD510 radio system alerts you visually and audibly to objects around the vehicle when you are reversing. It is automatic.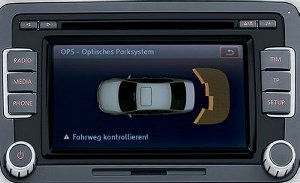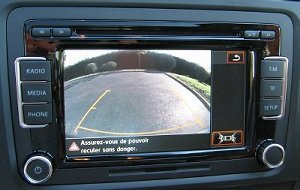 Park Assist and Rear Assist displays on RCD 510.
Rear Assist just means there is also a rear view camera so you can actually see what is behind the car as you are reversing. The colour image is superimposed with guide lines providing an indication of where the car is headed. All very clever however I did find myself wondering which to believe. Should I look behind or could I just look at the rear view camera? Tricky one that. I think I did both. Maybe the more you live with the system you'll get to know its limitations and when you still need to look behind.
Park Pilot dash display.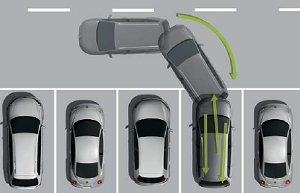 Park Pilot makes parking easy.
Park Pilot is the super-dooper feature. This is where the car can pretty much park itself. Again it is very easy to use but you do need to initiate it by pressing a button. Once, to tell it you want to park between two cars (e.g. along the side of a road) or twice, to tell it you want to back into a spot (e.g. into a space in a car park). You then drive forward slowly and the dash display will indicate when you have just passed a suitable spot. You then put the car into reverse, check behind and use the accelerator. The car controls the steering. It's pretty spooky at first but its accuracy reassures you. You decide, aided by the feedback from the Park Assist and Rear Assist camera when you need to brake and possibly change into 1st gear to move forward a bit. The car continues to adjust the steering until you either turn off the engine or take over control. It certainly parked much better than I can.
So those are all the fancy features I liked but there was one other less-fancy thing I liked. The engine was very refined and quiet. My Mk V Golf's 1.9 TDI Pumpe Düse engine pumps out pretty much the same horsepower but is louder than this Touran's 1.6 Common Rail engine. Performance was very similar though. Perhaps my Golf felt a tiny bit quicker but then again, I don't have to change gear so much. My car only has 5 gears and the Touran had 6. I'm sure the Touran would weigh more than my Mk V Golf but the trip computer said it achieved 61 MPG over the whole day from cold start followed by approximately an equal mix of longer open road cruising at 50-60mph and city stop-start short journeys. I think my Mk V would have only been able to achieve mid 50s.
There were some things I didn't like so much about this Touran. Firstly it didn't have climate control, only AC. My Mk V Golf SE came with the Climatic, semi-automatic climate control and I really like it. You set the temperature you want and it figures out whether you want hot air or cold air. Simple. Just having AC seemed a bit of a backward step. I don't think you can specify the Climatic system as an option on the Touran, only the Climatronic 2-zone full climate control system. Shame.
Secondly, a little thing, the Touran had cruise control but didn't have the little dummy pedal to the right of the accelerator pedal where you can rest your right foot when the cruise control is in charge. I missed it. It allows you to move you foot away from the accelerator so you know you are not pressing it accidently as well as allowing you to steady yourself when going round corners.
Thirdly, whilst the Touran had Auto Lights it didn't have Auto Wipers. Again, I love the Auto Wipers feature on my Mk V. Wouldn't like to be without it.
All in all, a very nice car with some excellent gadgets but too big a car for me.