Golf Mk 6 1.2 TSI 105PS Review
27th May 2011
A couple of months back my Mk V went in to have its timing belt changed and I was given a Mk VI 1.2 TSI 105PS as a courtesy car. Here is a quick review.
I really like it! That was my first impression on getting into the approximately 6 month old, 2010 model year car. I'd never driven one of these TSI engines before but they really do manage to squeeze a lot of power out of such a small engine. And it is a physically small engine. I lifted the bonnet and was amazed by just how much space there is in there compared to under the bonnet of my 1.9 TDI.
The 1.2 TSI had the same 105PS/77KW/103BHP output as my 1.9 TDI and it certainly felt like it. Low down torque was very impressive and you certainly didn't have to rev it like I remember having to do with other small capacity petrol engines in the past. (Read my review of the Golf Mk VI with a 1.4 non-TSI engine here.) It had a 6 speed gearbox as opposed to the 5 gears in my car. This had limited appeal to me. Maybe it gives the more "enthusiastic driver" more flexibility but I've never found the need for so many. Most of the time I found I could simply skip gears. i.e. 1st to 2nd, 2nd to 4th, 4th to 6th, etc.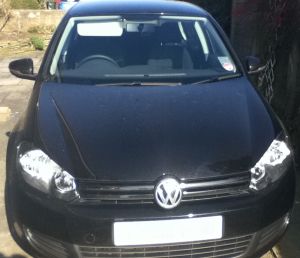 I have heard that the 1.9 TDI engine in my Mk V is considered a bit un-refined. Personally I've never really noticed this but I have to admit, there was noticeably less vibration in the 1.2 TSI when pulling with low engine revs than in my 1.9 TDI when some of the MK V's less-than-perfect interior build quality is highlighted by the accompanying vibrations!
As I drove nearly 50 miles in the Mk VI I watched its trip computer's average fuel consumption figure slowly increase towards the mid 50s mpg figure I achieve on average in my 1.9 TDI. I began to wonder if there was a point in buying a diesel engined car anymore if petrol engines had become so efficient. But then I realised that diesel engines have also become much more efficient. Looking at the extra urban fuel consumption figure for the Mk VI equivalent to my Mk V 1.9 TDI, the 1.6 TDI 105 PS, this does appear to be the case from its 72.4 mpg claim (83.1 mpg for the BlueMotion models). My faith in diesels was restored.
This Mk VI S model was a more basic spec than my Mk V SE model but you do seem to get a few more things as standard nowadays than you did when I bought mine: A trip computer appears to come as standard and even the entry level RCD 210 radio and CD player is MP3 compatible. They've managed to squeeze this unit down to occupy just over half of the double-DIN opening in the dash used to accommodate higher spec units, leaving space for a useful little storage compartment. Ideal for your sunglasses, mobile phone, etc. Good design I think.
Finally, one other nice feature of the Mk VI is the Hill Hold function which comes as standard. You don't really have to learn how to use it. It just comes to the rescue when you stop on an incline and take your foot off the brake perhaps before selecting a different gear without applying the handbrake. The car's brakes are held on for a second or two automatically preventing the car from setting off by itself. Again, another bit of nice design.