Tailgate Snapped Wires
29th March 2013
About six weeks ago I discovered that I could no longer open my Mk V's tailgate from the outside. I had to drop the rear seat backs and use the interior release lever. I wasn't able to investigate straight away and so continued to use the car during which time I discovered that the reversing light, rear fog light, rear wiper and rear window demister also did not work. VCDS reported the following fault codes:
Address 09: Cent. Elect.:

01506 - Bulb for Rear Fog; Right (L47) 
            012 - Electrical Fault in Circuit

01518 - Bulb for Back-Up Lights; Left (M16) 
            012 - Electrical Fault in Circuit

01516 - Terminal 30; Left 
            011 - Open Circuit - Intermittent

00927 - Terminal 30 (Right) 
            011 - Open Circuit - Intermittent
			
Address 46: Central Conv.:

00950 - Central Locking Motor - tailgate (V53); UNLOCK 
            007 - Short to Ground
After a few days I was able to investigate and learnt on the internet that a few other Mk 5 owners had experienced similar problems which had turned out to be caused by wires snapping where they pass between the car body and the tailgate through the flexible rubber conduit on the left hand side (never on the right hand side!?). So I took a look on my car.
The flexible rubber conduit has fastenings at each end to secure it to the body/tailgate. I found that even after releasing just one fastening, you still cannot expose much of the wiring within. But of the bits I could see, all looked fine. After re-reading the internet reports however it seemed that the wires usually snap right in the very middle of this conduit and so I took another look. Sure enough, one brown earth wire had snapped and a couple of white wires had exposed conductors. I was able to patch the broken wire and wrap the wires with exposed conductors with electrical insulation tape and "Hey Presto!" everything started working again.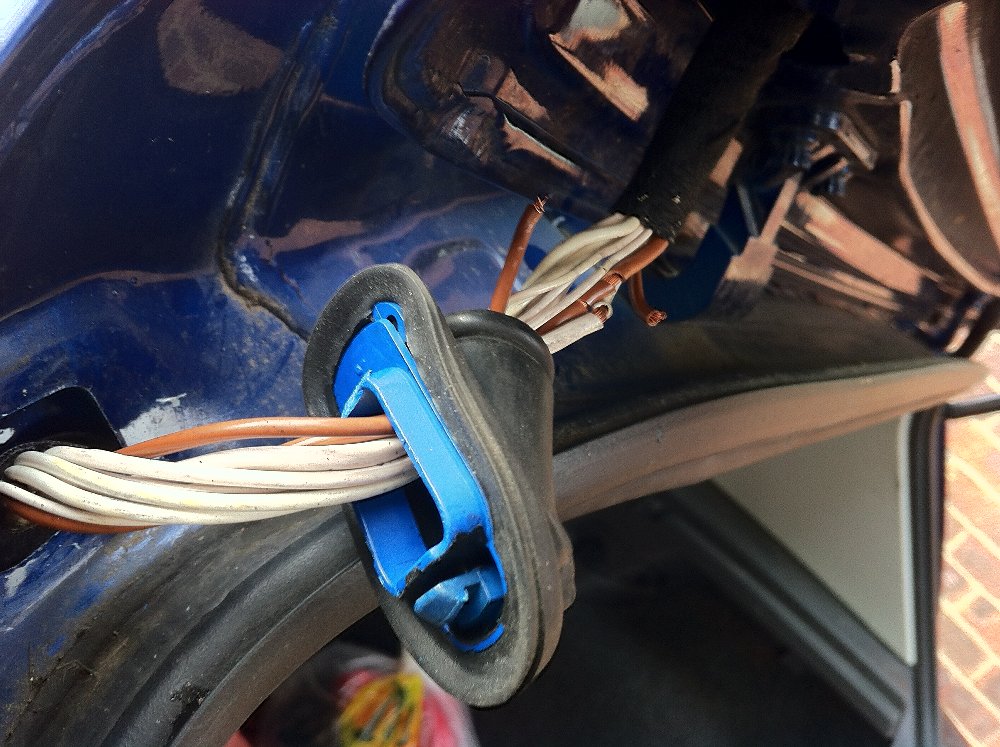 Damaged flexible conduit showing
one fastening with a securing lug missing.
Click on a photo to enlarge.
Whilst you might be able to get away with just doing this, you may, like me irrevocably damage the flexible rubber conduit whilst repairing the wires and so the conduit needs replacing. Whilst a replacement could be fitted by extracting just one end of the wiring loom and sliding it on, I figured if I was going to have to do that I might as well have a whole new section of wiring loom fitted. However, that looked like too big a job for me and so I would need my local VW dealer to do it. I did not think I should have to pay for it since in my mind, this wasn't a wear and tear issue but rather, a design fault.
I contacted my local Volkswagen dealer and explained what I had found and they accepted that they were aware of this problem. However, because my car was outside the 3 year warranty I would have to meet the £220 cost of the repair. Unhappy about this I contacted Volkswagen Customer Services. They initially sided with my local dealer but after I protested, they agreed to contact the dealer to see if there was anything they could do. To cut a long story short, after a couple of weeks Volkswagen agreed to pay 50% of the cost of the repair. Reluctantly I accepted this and so a new section of wiring loom (part number 1K6971147H) and a replacement flexible rubber conduit has now been fitted.
I have to say that this is my first unpleasant experience during nearly 9 years of owning of my first Volkswagen car. Not because of the cost of this repair (I have paid much more for more obvious wear and tear repairs) but because this is the first time I feel as though I have not been treated fairly by Volkswagen. Did I cause this problem? Have I been opening and closing the tailgate too aggressively or too frequently? Do other makes of car, many of which apparently strive for the same reputation for quality as Volkswagen, also have their tailgate's wiring snapping before they are 9 years old? I don't think so. The number of times I have been reminded by Volkswagen that my car is nearly 9 years old, makes me wonder if they don't expect their cars to last much longer and this will make me think hard about buying a second Volkwagen when I decide to buy my next car.
If you have experienced this issue or any other issue related to the Volkswagen Golf Mk 5, then please vist my Volkswagen Golf Mk 5 Forum or contact me directly.