VW Golf Mk 7 Review
29th March 2013
Whilst my car was at the garage having a wiring loom replaced I got to drive a Volkswagen Golf Mk 7 SE courtesy car. What a lovely car! This was pretty close to my perfect car. The 1.4 TSI 122 bhp petrol engine seemed to perform similar to my Mk 5's 1.9 TDI however I didn't really explore it's full potential; I was more interested in assessing its economy than its performance. You can get a 1.2 TSI 105 bhp petrol engine as well as a 1.6 TDI 105 bhp diesel engine. I'm still uncertain which engine would be right for me when it comes time to change. I like the torque and efficiency of diesel engines but the lower cost and quieter petrol engines.
Externally, I didn't think the Mk 7 looked very different from the Mk 6. The rear light clusters were the only obvious difference to me.
As many other people have commented, the interior of the Mk 7 Golf is beautiful. It is the high quality, easy-to-use design people have come to expect. Somehow Volkswagen manages to keep making them even better! Apart from the dash, the rest of the interior looks pretty much the same as in the Mk 6 and the Mk 5 for that matter. Only thing I really noticed was that the switches in the centre roof console looked a bit different.
All Mk 7 Golf's come with plenty of equipment as standard. There is the electronic handbrake with Auto Hold feature. This takes a little while to get used to but you can pretty much just leave the car to apply the handbrake automatically for you whenever you come to a stop, take the car out of gear and release the clutch. Then, as you start to set off again, the handbrake will be released automatically. Warning lights on the handbrake switch and dash confirm whether the handbrake is or isn't applied but you pretty much don't have to think about it. You can of course turn this feature off if you prefer to control the handbrake manually using the switch.
All Mk 7 Golf's also include the Auto Start/Stop feature, regenerative braking and a very clear and an easy to use dash trip computer. The trip computer includes a new HMI Eco display which reports energy consumption by devices such as the heating/cooling system. If you want to get the most out of your tank of fuel, this may help.
The Composition Media System is very similar in functionality to that of the RCD 510. It includes a DAB radio which I found to have excellent reception. Its large colour touch screen makes it easy to change many of the car's settings here rather than via the dash display. Also if your mobile phone was connected to it, upon turning off the engine it displays a nice little reminder to take your mobile with you. Very considerate.
As well as a leather trimmed multi-function steering wheel, SE models include a sophisticated Cruise Control system with Automatic Distance Control (ADC). ADC comprises a radar sensor at the front of car which detects a vehicle ahead and adjusts the cruising speed accordingly. I use the more conventional cruise control system on my Mk 5 all the time, on city roads as well as on motorways. However, on city roads in particularly I frequently have to knock it off as I come up behind slower traffic. On the Mk 7, you don't. It will control the brake and accelerator for you in order to maintain one of 4 predefined distances(variable depending upon the speed you are travelling) from the vehicle in front, accelerating gently back up to your target speed when there are no obstructions. In cars with an automatic gearbox it can actually bring the car to a complete stop. However, with a manual gearbox you always have to be prepared to step on the clutch to prevent the car from stalling. It is obviously a very complicated system but appears to have been well designed enabling you to quickly feel able to trust it. It makes for effortless cruising.
There are a few differences from the more conventional cruise control system found on my Mk 5 Golf; You can now change gear without this knocking off the cruise control. This helps if you suddenly find yourself in too high a gear for climbing a hill. The cruise control system will also now brake the car to prevent it exceeding your target speed, for example, when descending a hill.
The new cruise control system also includes a new Speed Limiter mode. The cruise control will only cut in to prevent you exceeding a predefined maximum speed, except in an emergency. Ideal if you have a heavy right foot on the motorway!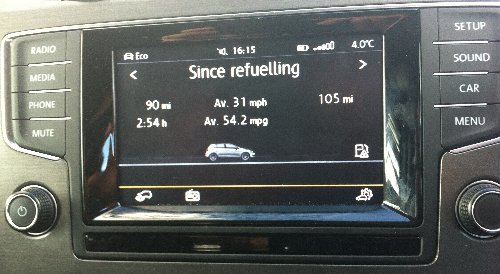 Driving Info display on radio system.
The SE model also includes the Driver Profile Selection feature which enables you to choose between Normal, Eco, Sport and Personalised modes. On this car, this appeared to only change elements of the steering and ADC system. I had it on Eco all day and I found that the car was still quite responsive. Over the 100 miles or so of a mixture of city and faster driving the car averaged about 54 mpg. Since that was from a frosty 2C start I didn't think that was bad. I think that once used to the car I could have averaged nearer 60 mpg.
Other things I liked; It seemed quiet enough inside. I didn't notice any excessive road, wind or engine noise. It was very comfortable. I didn't try hard to assess the handling but the suspension soaked up bumps with ease. Another neat feature; I stalled the engine once but as soon as I pressed the clutch, the engine sprang back into life saving me the effort of having to turning the key. Nice.
Things I disliked. I wasn't a fan of the square bottomed steering wheel. I like my steering wheels to be perfectly round. And I've said it before about the Mk 6 but I miss my Mk 5's Climatic semi-automatic climate control. Volkswagen appear now to only offer either the manual heating/cooling controls with AC or the Climatronic 2-zone full climate control system. That's about it.
So if I was in the market for a new car today, I'd be very happy to rush out and buy a new Golf Mk 7, once I'd decided which engine to get. Unfortunately (or perhaps fortunately) I think there's still a few years left in my Mk 5, but now, it will be so much easier to be tempted to change sooner.
Further Information